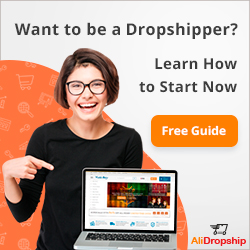 Why the Vaganova ballet method!?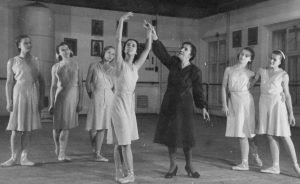 The answer to this question is simple: The best dancers in the world came from this method. Mikhael Baryshnikov, Rudolph Nureyev, Natalia Makarova, Galina Ulanova, Maya Plisetskaya, just to name a few, are great examples of the success of this method.
There are different types of training methods in classical ballet.  Here is a Historical look and brief description of each of the training methods.
The Cecchetti method is a ballet training method devised by the Italian ballet master Enrico Cecchetti (1850-1928). The method is a strict training system with special concern for anatomy within the confines of classical ballet technique, and seeks to develop the essential characteristics of dance in its students through a rigid training regime. The goal is for the student to learn to dance by studying and internalizing the basic principles, in an effort to become self-reliant rather than imitating the movements executed by their teacher.
The "École Française", is characterized by an emphasis on precision, elegance, and sobriety. Ballet quickly spread from Italian Renaissance courts of the 15th and 16th centuries to the French court of Catherine de' Medici where it was developed further. In the 17th century at the time of Louis XIV, ballet was codified, when ballet dancing was restricted to men. The predominance of French in the vocabulary of ballet reflects this history. It also became a form closely associated with the opera. Mega-star Rudolf Nureyev directed the Paris Opera Ballet and choreographed re-worked versions of the great academic classic ballets (such as "La Bayadère", "Swan Lake", "Romeo and Juliet", "Raymonda", "Cinderella", "The Sleeping Beauty") . His artistic direction was extremely strong, and he formed and named a whole generation of young principals ("Étoiles"), called the Nureyev Babies. (Manuel Legris, Laurent Hilaire, Kader Belarbi, Isabelle Guerin, Elisabeth Maurin, amongst others).Since that time the French school has turned into the Nureyev school, with his very idiosyncratic style, based on all the steps that Nureyev himself excelled at. Great speed and quantity of steps, necessitating the music to be played slower are characteristic of this style. This influence lasts from the 1980s to the 2000s, when it is just starting to wane, as the Nureyev Babies retire.
The Bournonville method is a ballet technique and training system devised by the Danish ballet master August Bournonville. August Bournonville trained with his father Antoine Bournonville and other notable French ballet masters. He was heavily influenced by the early French school of ballet, which he preserved in his teaching and choreography, when the traditional French methods began to disappear from European ballet. What is considered today to be the "Bournonville style" is essentially the unfiltered 19th century technique of the French school of classical dance.   Great attention is paid to the shape and placement of the arms. Arms are held in front of the body in all positions, so as to be anatomically correct. Feet are low in the cou de pied position, with the toe of the working foot behind the ankle of the standing leg. Pirouettes are performed with a low leg position, a result of the long skirts won by ladies during his time.
The Royal Academy of Dance (RAD) was established in London, England in 1920 by Genee, Karsavina, Bedells, E. Espinosa and Richardson and received its Royal Charter in 1936. Genee was its first president, succeeded by Fonteyn in 1954. It is one of the youngest methods of ballet also known as the English style of ballet.
The Balanchine Method is a ballet technique developed by choreographer George Balanchine, a graduate of Vaganova Ballet Academy and initially used at the New York City Ballet. It requires extreme speed, very deep plie, unconventional arms and hands, and emphasis on lines! (A trace of the Vaganova School)
The Vaganova Method (from Russian) training is acknowledged all over the world as the foremost training syllabus of the classical ballet and it is to be called simply "Teaching Method of Classical Dance" founded by Agrippina Vaganova.  The Method is an extraordinary system that permits to develop the knowledge of how one's body should be used in order to dance with expression, yet without injuries, like the best Russian dancers do.  When I see dancers trained under this method it is clear to me that they all are not just strong, but extremely artistic and with great understanding of the usage of certain body parts (like the back and aplomb – vertical attack!). Famous graduates of the Vaganova Ballet Academy who became internationally renowned: Rudolf Nureyev, Mikhail Baryshnikov, Natalia Makarova, Yuri Soloviev, Galina Mezentseva, Svetlana Zakharova, Ulyana Lopatkina, and many others.
This method came together from the other methods and it has been considered by the masters of ballet as the true method of teaching classical ballet (Especially because it combines all of the best aspects from before, but with more attention to the back muscles and artistry – leading to perfect balance and strength). The other methods are all still good methods of teaching ballet, however the Vaganova method is now recognized as the foremost training method and syllabus of the classical ballet the world over.
I believe this article (Mariinsky hires first American dancer) bring things into perspective, which has really a lot to do with the mentality of the Russian artist. Ballet is their home and with great passion and responsibility Vaganova's brilliant mind discovered something by using the other methods in her classroom as her lab. This discovery was not just for Russia or a competition between countries; her passion for creating a ballet method was so that anyone could become an outstanding dancer given the right training.
Vaganova referred it to this method as "Teaching Method of Classical Dance" because her intentions weren't after making a name for herself, but for the creation of a better method from what she found missing on previous ones (that she trained under). And not just for Russians dancers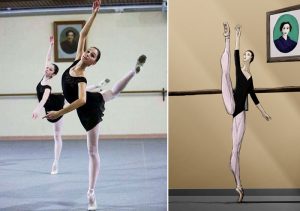 but for the world's. And after she died in 1951, V. Kostrovitskaya took over the Methodology Department and she, along with A. Pisarev and countless other teachers, finished Vaganova's work.  So there was also a much needed effort of others (why is called Teaching Method of Classical Dance Founded by Agripppina Vaganova). And as you know dear friends, when someone, in this case like Vaganova, is passionate with such talented brilliant mind, and it has found a need, one doesn't give up on answers! Especially a need that she believes have interfered with her own success as a ballerina. So she found the answer for the future! Those that care enough about the future will go to lengths to make something better, and in this case is what Vaganova did in the art of ballet.
She studied and studied, and analyzed moves and methods… all methods, to put the missing pieces together to an answer of why someone like her or many others, felt cheated in their training with previous methods. We must to remember that we are not talking about Vaganova not having great training and great teachers because ballet is the daughter of Russian (and precious methods were already good), but still…she found there was a need in the training methods. She knew that the best could be even better. She had a call to make history…and she did! The teaching method of classical dance is a slow, safe and predictable systematic approach to ballet education!
This so called Russian method, it is fair and safe to say that is not just another style of teaching or method, is scientifically based and physiologically sound and incorporates the laws of physics and bio mechanics. It has been proven to be not only the safe step by step approach to the development of a ballet artist but the only complete system that can develop the entire nerve muscle patterns and coordination's in such a way to free the artists from technical worries. The artist can then truly express himself over self.  Agrippina Vaganova tested the effectiveness of her methods at her school as if in a "laboratory", and her best friends and colleagues were scientists, professors and leading experts in the fields of education, biomechanics, physiology of exercise and kinesiology. The resulting method (completed by her first assistant for nearly 30 years, Vera Kostrovitskaya, with the input of many other Russian methodologists) is the only method which is based entirely upon physiological, as well as aesthetic, principles.
Classical dance is characterized by flight or airiness. This Russian method is a complete education with a rich tradition.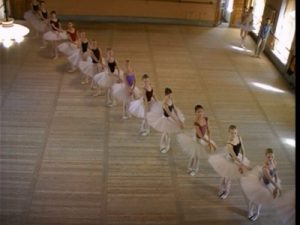 History
Upon graduating from the Imperial Ballet School in Saint Petersburg in 1897, Vaganova began dancing with the school's associated professional company, the Imperial Russian Ballet. She retired from dancing in 1916 to pursue a teaching career and in 1921 returned as a teacher at the school, which had been renamed the Leningrad Choreographic School.  During the 30 years she spent teaching at the Leningrad Choreographic School, Vaganova developed a ballet technique that combined elements of French, Italian, and earlier Russian technique, and a training method to teach the technique. The Method fuses elements of traditional French style from the romantic era with the athleticism and virtuosity of Italian technique. The training system is designed to involve the whole body in every movement, with equal attention paid to the upper body, legs and feet. Vaganova believed that this approach increases consciousness of the body, thus creating a harmony of movement and greater expressive range.
Tenets of the training method included development of lower back strength and arm plasticity, and the strength, flexibility and endurance required for ballet, and it incorporated a detailed instruction process that specified when to teach each topic and how long to teach it. In 1948, Vaganova authored a book titled Basic Principles of Russian Classical Dance, which outlined her training method and ballet technique. It continues to be an important text for ballet teachers to this day. Following Vaganova's death in 1951, her teaching method was preserved by instructors such as Vera Kostrovitskaya and Vera Volkova. The creative evolution of Agrippina Vaganova's ideas continues to this day and is widely used by training institutions and professional ballet companies throughout the world. Today the Vaganova Method is the most widely used ballet teaching method in Russia, Europe, and North America.
Characteristics
The Vaganova training Method relies on the following principle: All training can be encompassed and displayed in the course of one grand pas de deux. Students are trained to prove this principle upon graduation, thus the reason for graduation performances in which the most talented students are given a grand pas de deux to perform. Terminology used in the Vaganova Method often differs from other methods, and may also vary by locale. For example, the Vaganova grand pas de chat is commonly called Grand Jete saut de chat in the US, and Vaganova's battement jete is often called degage in other methods.
So Why the Vaganova Method?
Proven to produce the best artists in the ballet world times after time…
To understand the correct execution of each exercise, and the physiological reasons WHY! (the organic processes or functions in an organism or in any of its parts- including all physical and chemical processes)
Create true artists and passionate dancers not just students
Because the lesson plans that are precisely structured for efficiency, effectiveness and injury prevention
Help every one of your students, not only the naturally gifted
Follow in a line of distinguished pedagogues who taught some of the greatest artists of the past century
Inform your choreography through a deeper understanding of the classical vocabulary
I have selected some wonderful materials I personally recommend to all  serious students and teachers about the " Teaching Method of Classical Dance"
founded by Agrippina Vaganova" (or so called the  Russian/ Vaganova Method).
Basic Principles of Classical Ballet
Agrippina Vaganova
Foundations of Classical Ballet: New, complete and unabridged translation of the 3rd edition (Performing Arts)
Agrippina Vaganova
100 Lessons in Classical Ballet: The Eight-Year Program of Leningrad's Vaganova Choreographic School
Vera S. Kostrovitskaya
School of Classical Dance
Vera S. Kostrovitskaya
Vaganova Ballet Level 3 Complete Syllabus
Have a comment about training methods? Let me know what you think in the comment box below.